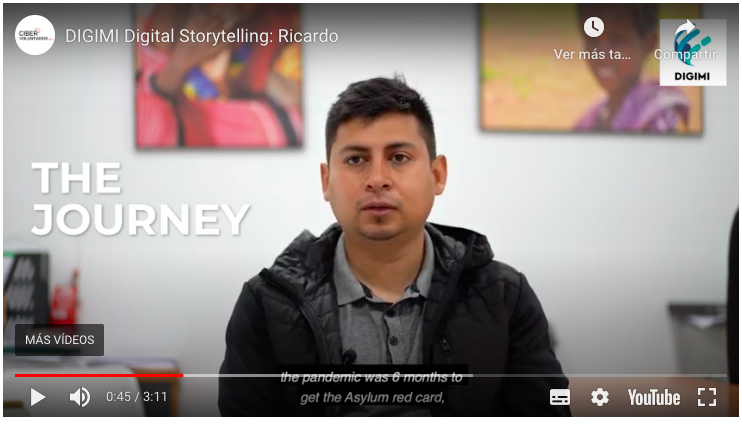 Digital Storytelling for more inclusive societies: 27 people from 23 nationalities share their stories in DIGIMI.eu
11/03/2022
Can digital storytelling and the use of video make the voices of migrants heard? From the European project DIGIMI.eu we think that it can: It is a powerful integration and communication tool. Now we gladly share the story of 27 people from 23 different nationalities. Powerful stories showing how they adapted to new lives in new countries, the interactions with the local communities, their hopes, their dreams, their fears and their achievements. These are the stories of the journeys that lead them to find other opportunities far away from their own countries and their families. The project activities are being carried either in person or through online interviews, and after that, the interviewed are invited to share the recorded story. The teams involved had great moments meeting the participants in person and giving them the opportunity to express themselves and share their stories with the community.
"My motivation was to look for a better future"
In the first story we share, we talked with Ricardo Crespo, who migrated to Spain from El Salvador. He has been living in Spain for 2 and a half years. His personal journey is one of overcoming obstacles, when he arrives, he was held at Madrid Airport for 15 days before gaining entry. According to him "it was very hard" at first looking for help in public kitchens. Now, thanks to the work of the organization ADRA (Migrant Care Center in Madrid), he has found support in the local community where he has connected with people in the same situation. In Ricardo's own words: "My motivation was to look for a better future, if there is a goal, a future, a dream, everything is possible. If you want things, you can change".
Engagement of the local communities and migrants NGOs
The main impact with the interviews, which were mostly conducted live, was the engagement of the volunteers, social workers and interviewers involved in the DIGIMI the project. All of the participants have different and really inspiring stories, which show how different experiences of adapting to a new city can be and what their new cities like Madrid, Amsterdam, Vienna, Nicosia or Athens means for each of them. On the other hand, the volunteers also have been having a lot of good experiences by getting to know such interesting stories and also sharing their own as participants.
Lessons learned
The participants also were very excited about learning how to conduct interviews and create Digital Stories, among other skills like communicate. The main goal was looking for diversity, so they would like to hear from different backgrounds, ages, and nationalities, currently living in different European cities, interested in telling their stories as well as sharing their perspectives about the process of settling into this new city.
More news